Foreword by the African Union Commission
"A continent without travel and document restrictions is an Africa we can be proud of. Here, an African business traveller can meet contacts in another capital at a moment's notice; an African family can visit eco-tourism sites in a neighbouring country with ease; and African students can move freely across national borders to gain the labour market skills they need"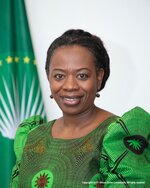 In January 2021, the largest free trade area in the world began operations. This trade area covers all but one African country, and its increase in intra-African trade is expected to produce huge economic and social gains for the continent.
If implemented fully and in an inclusive manner, the African Continental Free Trade Area Agreement will extend a critical lifeline to African small businesses and will boost the livelihoods of African women and young people—those most affected by the COVID-19 pandemic.
Yet this sixth edition of the Africa Visa Openness Report reveals a real danger of Africa losing the gains in liberal visa policies that the continent has realized over the years. In 2021, Africans can only travel to one-quarter of the continent visa-free, and fewer countries issue visas on arrival than before. Many travellers also report excessive fees and delays in obtaining a visa. A lot more can be done to reduce bureaucracy and simplify the visa process so that Africans have a smoother travel experience.
On a positive note, the top 10 countries' average score on the Africa Visa Openness Index rose over the last year, and Benin, The Gambia, and Seychelles continue to offer visa-free access to all Africans. The East African Community (EAC), the Economic Community of West African States (ECOWAS), the Southern African Development Community (SADC), and the Arab Maghreb Union (AMU) remain the top performing regional economic communities.
The COVID-19 crisis has underscored the urgent need for African countries to be more self-sufficient – economically and socially. To get there, we need to intensify our efforts to boost intra-African trade. It is more urgent than ever that we expand Africans' freedom to move around their own continent. It is even more urgent that countries sign and ratify the Protocol on the Free Movement of Persons.
We have committed to a model of African integration. Let us bring that model to life.
H.E. Dr. Monique Nsazabaganwa
Deputy Chairperson, African Union Commission