Foreword by the African Development Bank
"The success of all is the success of Africa... Together, we would become like a Baobab tree whose roots will be deep enough to touch all parts of Africa."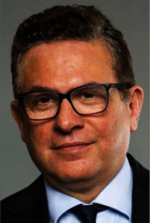 The COVID-19 pandemic has caused a health crisis not seen in years and has had a devastating socioeconomic impact on countries across Africa. To recover and rebuild, it is imperative that we combine efforts not only to expand access to vaccines, but also to ease the movement of people on the continent. Making vaccines more accessible and easing the movement of people are essential to kick- start trade and investments in tourism, travel-related industries and in other equally crucial sectors, such as agriculture, energy, and manufacturing.
The findings of the Africa Visa Openness Index can help countries drive policy reforms that will build resilience and strengthen Africa's recovery. By supplying readers with the
latest data, the African Visa Openness Report will help Africans decide where to visit, where to do business, and where to invest. It will also show the African Development Bank's regional member countries what areas require policy reform.
Notwithstanding positive developments over the past five years, reform is still necessary. For the first time since the African Visa Openness Report was published, the data shows that openness levels dropped slightly in 2021, after some governments temporarily reversed their liberal visa regime partly in reaction to the COVID -19 pandemic and largely to recent instability in their countries. African travellers now require a visa to access just over half of the continent's countries.
Nonetheless, the trends between 2016 and 2021 are heartening. They show that two-thirds of countries in all regions of the continent have improved or maintained their visa openness score over the past five years. At the same time, to facilitate access, 24 African countries now offer an eVisa.
The COVID-19 pandemic has given a new impetus to human mobility. Let us capitalize on this silver lining by improving connectivity and embracing technological solutions. An Africa with liberal visa regimes and open borders benefits us all.
Dr. Khaled F. Sherif
Vice-President, Regional Development, Integration and Business Delivery, African Development Bank Group