Agenda 2063: The Africa We Want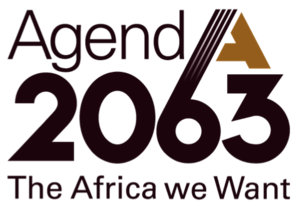 African Union's Agenda 2063
ASPIRATION 2.
An integrated continent, politically united based on the ideals of Pan Africanism and the vision of Africa's Renaissance.
We aspire that by 2063, Africa shall:
Be a United Africa;
Have world class, integrative infrastructure that criss-crosses thecontinent;
Have dynamic and mutually beneficial links with
her Diaspora; and
Be a continent with seamless borders, and management of cross border resources through dialogue.
Africa shall be a continent where the free movement of people, capital, goods and services will result in significant increases in trade and investments amongst African countries rising to unprecedented levels, and strengthen Africa's place in global trade.
African Union: Latest developments on Agenda 2063
The African Continental Free Trade Area (AfCFTA)
The African Continental Free Trade Area (AfCFTA) is an ambitious trade arrangement that forms the largest regional free trade area in the world. Trading under the AfCFTA Agreement began on 1 January 2021, after delays exacerbated by the COVID-19 pandemic. So far, the AfCFTA Agreement has been ratified by 38 countries that committed to reducing 90% of trade tariffs on goods within five years for developed countries and 10 years less developed countries. On the trade in services, countries agreed to initially liberalise five sectors: business services, communication services, financial services, tourism, and transport. The countries also committed to addressing non- tariff barriers and other policy bottlenecks among themselves. The AfCFTA Agreement's ultimate objective is to eliminate 97% of tariffs by the time the Agreement is fully operational.
"Africa's stimulus package [...] post COVID-19 is the AfCFTA and aggressive implementation to boost intra-Africa trade and [...] contribute to Africa's recovery."
For trade and investment, the AfCFTA offers an unprecedented breadth of opportunity. The AfCFTA covers a market of more than 1.2 billion people. Its GDP—now USD 3 trillion—is expected to more than double by 2050.

To take advantage, though, Africans must be able to move freely across the continent. Free movement will also make it possible for more African women and young people to claim their share of prosperity.
Protocol on the Free Movement of Persons in Africa
Implementing the Protocol on the Free Movement of Persons would transform Africa's prospects for economic growth. In the wake of the recession caused by the pandemic, making the Protocol operational is more critical than ever.
"It is the free movement of people which will boost intra-African trade under the AfCFTA,and enable African countries to proactively and swiftly respond to the twin green and digital transitions we are faced with in the 2020s. We cannot afford to not build seamless borders for tomorrow's Africa."
To date, 33 countries have signed the Protocol, and four countries (Mali, Niger, Rwanda, and São Tomé and Príncipe) have ratified it.12 This falls short of the 15-country threshold needed for the Protocol to enter into force. We must keep working to liberalize Africans' access to other countries, even as we continue efforts to issue an African passport—in line with the standards of the International Civil Aviation Organization—to all citizens on the continent.
Single African Air Transport Market
Moving to implement the Single African Air Transport Market14 (SAATM) will support the African aviation industry's recovery from the downturn caused by the pandemic. So far, 34 countries accounting for 75% of Africa's passenger traffic have signed up to the SAATM. Of these, 10 countries are ready to implement the SAATM fully. Making it easier and quicker for Africans to travel to other countries, visa-free or with the possibility of obtaining a visa on arrival, will contribute immensely to regional connectivity on the continent.
"As economies reopen and economic activity recovers, a proper synergy between the SAATM, the AfCFTA, and the Free Movement of Persons Protocol presents an opportunity for unfettered movement and trade."
Of 54 African countries:
38 countries (70%) have ratified the AfCFTA Agreement
34 countries (63%) have signed the Protocol on the Free Movement of Persons
34 countries (63%) have signed up to the Single African Air Transport Market
"We need the visa regime to be able to help people move around. We also need [the] right customs regime and the right border automation control and so on, to support [the] movement of people, goods and services [for] the development, growth and sustainability of [the] African economy as we begin to recover from this pandemic."